A student construction project at Forsyth's Mary Persons High School just might be one of the most compelling stories in the world of CTAE (Career, Technical and Agricultural Education) in Georgia. Consider:
The "Mighty Madeline Playhouse" was a renovation project that spanned six years and gave hands-on experience to scores of students in instructor DJ Hurm's program.
The finished product is a stunning display of craftsmanship, a stark contrast to its original state.
It ultimately was used for a great cause in the Monroe County community, serving as the prize in a raffle that benefitted a young girl who is battling brain cancer.
Hurm explains the story of the playhouse renovation and how it came to bear Mighty Madeline's name:
A family friend asked for advice on selling a playhouse that her daughters had outgrown. The Mary Persons Construction Program was able to purchase the playhouse and renovate it. We acquired it about six years ago. As a high school construction program we get to do lots of projects, but nearly all of them are "new work" projects. The playhouse project represented an extensive remodeling opportunity. There was no urgency to complete and sell it, because it was a great teaching tool. I could illustrate architectural details and construction concepts without using a textbook or whiteboard.
Since the playhouse needed a new roof, siding repair and replacement, interior floor, wall and ceiling finish, electrical system, trim and paint, we would be exposing students to a scope of work that was relevant and went beyond the context of our ordinary training. There is only minimal satisfaction from joining boards together, only to be graded on your execution and then tear them apart. But when the boards are joined together to form the window trim or fascia on a project like the playhouse, the satisfaction scale goes through the roof!
Originally the plan had been to auction the playhouse as a fundraiser for our program, but it was decided that the proceeds of a raffle would be donated to Madeline's family. Madeline is an elementary school student in our community who is undergoing treatment for a rare brain tumor. She is well-known for her beautiful smile, beauty pageant poise and very corny jokes. (Why can't the cow remember anything? Because it goes in one ear and out the udder. … Don't get me started!)
Madeline was at school three years ago, just a regular sweet little kindergartner, when she suddenly became confused and disoriented, unaware of where she was. She was taken to the hospital and within hours flown to Atlanta for specialized imaging, which revealed the tumor. Throughout her chemo, radiation and surgeries, she has been an inspiration to all of Monroe County and beyond.
When the students found out we would be donating the playhouse to Mighty Madeline, their initiative, effort and motivation increased dramatically. They were no longer working for themselves – "for present use or present delight," as John Ruskin said – they were doing it for someone else.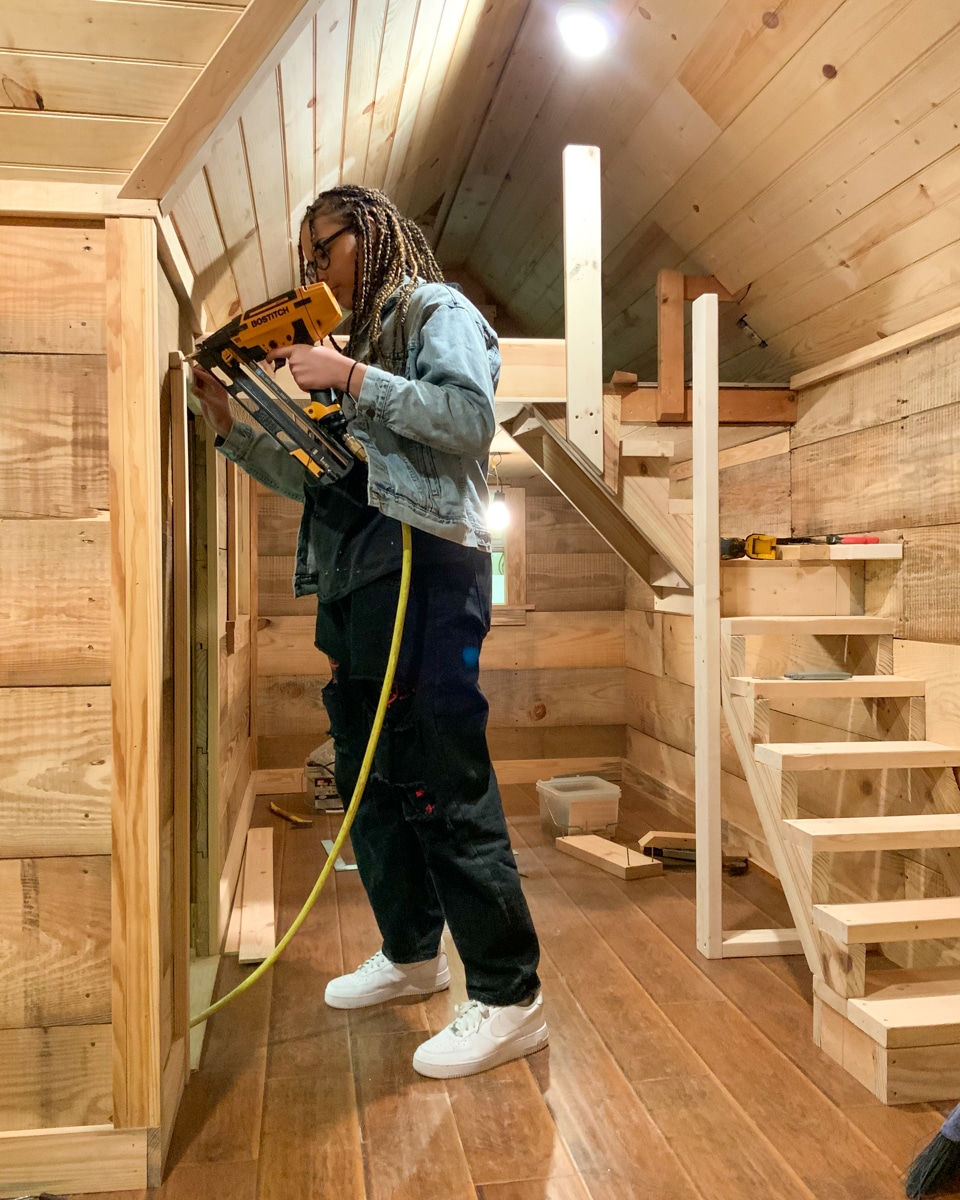 Over the six years that we worked on the playhouse, there were other projects. We might go a month or two without working on it at all. There were other times when every class and most students were working on some aspect of the project. Three of them on the roof, for example, three doing exterior window trim, two installing laminate flooring, three doing the painting. Through the years that we had the playhouse, hundreds of students had their hands in the work.
We have built lots of projects, but none that involved so many different remodeling skills. Again, when we build sheds, ticket booths, playground sets, etc., they are all new work. It's enjoyable to see any of these projects come together, but it's even cooler to see the transformation process of an extensive renovation.
I'm sure we will do more of these. There does not seem to be any lack of people who would like to have something built. I try to prioritize the needs in our own school first, then in our school system, then our community. We want to use the talents and resources that we have to help our community, so when a student needs a wheelchair ramp built or a storage room needs to be converted into a nurse's clinic we are here to help. As time permits, we take on other projects.
The winning ticket for the Mighty Madeline Playhouse raffle was drawn during the spring Forsythia Festival. The winner was Tom Brunson of Forsyth. Mr. Brunson's daughter, long-time educator Mandi King, was on hand to celebrate with Madeline's mother, Joy Sanders. Thanks to the help of the MPHS construction students and Monroe County businesses, churches and schools, we were able to donate a considerable sum to help meet some of the family's immediate financial needs. I could not have been prouder!