At Red Top Middle School, a creative approach to learning has opened the door for students to acquire construction skills they can use at home – and maybe even beyond.
Each day at the Bartow County school begins with a 30-minute period – called REE, for Remediation, Extension and Enrichment – in which students can brush up on difficult subjects, advance their knowledge in others, and learn new ones altogether.
When the program was preparing to launch in 2020, Assistant Principal Jason Rood saw an opportunity to include construction in the Enrichment component.
"There's a big push, and I'm a big proponent, of students getting involved and pursuing careers in the trade industry or looking at going to technical college," says Rood, who spent 10 years working in the construction industry before moving into school administration. "We want to get their interest level piqued to where they might say, 'Oh, this is something I could do for a living.'
"I think the trades industry is one of the most important industries in our country right now," Rood continues. "The focus on students going into the trades has really shifted away from that in the past couple of decades, and as important as other industries are, we really need to make students aware of the trades as they graduate from high school, and realize there are more options than just a liberal arts four-year college or another academic degree."
To that end, more educators are beginning to understand the value of introducing students to the trades at a younger age. At Red Top Middle, the Home Improvement focus group, as it's called, is available to the general population of students in grades 6-8 on Mondays and Tuesdays. Wednesdays and Thursdays are for students who have been identified through a screening test as potential candidates for a high school-level construction program. Construction Ready is a partner in the program by providing tools, materials and other support.
The latter group will complete three modules by the end of the schoolyear: Plumbing, Electrical and Carpentry. They earn a Tape Measure credential and begin working toward an OSHA credential. Each module will conclude with a group project. Students in the Plumbing module, for example, worked on a water reclamation system for the school campus during the fall of 2021.
"We're not getting real deep, because we only have 30 minutes," Rood says. "But we're trying to get them to where they can identify the tools, how to do some basic tasks, and how to identify basic materials and applications of construction."
Rood says about a third of Red Top Middle students go on to Cass High School, where carpentry instruction is available in the school's CTAE program. Others go to Woodland High, which doesn't offer construction, but does have an agriculture curriculum that includes some construction-related activities in which those basic skills are helpful.
Regardless of whether a student advances to a higher level of instruction, there are immediate benefits to be realized, both at home and in other classroom settings.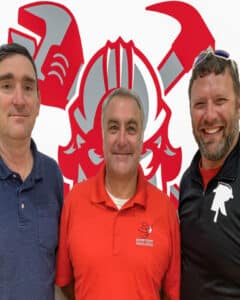 "I wanted to make it relevant to the students' lives by teaching them things they could do at home," says Rood, who is assisted by STEM instructor James Conaway and P.E. teacher Joe Kraft. "I told them, 'One day you're going to have your own house, and there are some things that you'll want to hire a contractor for, because they're experts, but there are also some things that you can do yourself.'"
Another big plus, Rood says, is students are able to transfer some of their newfound skills and knowledge into other subject areas.
"Some of the things we're doing align with the standards for some other subject areas," Rood says. "For example, in physics, we get into areas like mechanical advantage and how different tools have different mechanical advantages. And we learn things like measurements and fractions, which apply to math standards. There are a lot of ways we can tie this in with other subjects."
Also, while it's not yet an official curriculum, Red Top Middle's construction class has a natural appeal to certain students who may struggle with traditional book learning.
"Construction is a 100 percent a hands-on skill," Rood says. "For some kids who may have trouble sitting down and doing bookwork and writing and being on a computer, this is another outlet for them to learn something that they can use and apply to multiple areas of their life."
So far, the initiative has been so popular, a cap had to be placed on the number of students who could participate – "a great problem to have," Rood says.
"I've had some parents reach out and make comments about how excited they were that their children were coming home and talking to them about the trades and construction and things they can do at home. It brings the family a little closer together when they can work on projects that normally they wouldn't have done together. I can only see us taking it further and maybe eventually adding a full-time middle school construction class."