Before he ever laid eyes on Jabril Mathis, Tim Mosley had a hunch the young man was a good candidate to fit in at The Haskell Company.
Haskell, an architecture, engineering, construction and consulting firm headquartered in Jacksonville, Florida, was seeking to fill positions at the Miller Electric Center job site, where the Jacksonville Jaguars' training and administrative complex is slated for a summer 2023 opening.
Mosley, the company's Senior Manager for Field Personnel, says "Jabril really stood out" as he looked through a set of resumes in preparation for a Construction Ready hiring fair in the fall of 2022.
As Mosley recalls, "Our training director had looked at Jabril, too, and he cut to the chase and said, 'I want to know who you picked; here's my picks.' And his first pick was Jabril as well. So we could see there was potential, the two of us seeing something in someone who was willing to learn."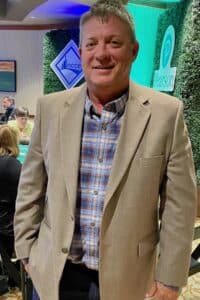 The interest, it turned out, ran both ways. In fact, before Jabril even set foot in the Construction Ready classroom, he had an eye toward a career at Haskell.
"Going into the program I saw that Haskell was one of the sponsors, and in my mind I was already thinking I would like to work for them," Jabril says. "I always said I wanted to be in design and building construction, and Construction Ready put me on that path toward getting there. Without Construction Ready I wouldn't have been able to connect with Haskell the way I wanted to."
When Jabril showed up at the hiring fair, he confirmed Mosley's initial impressions.
"Again, he stood out above the rest," Mosley says. "He had this interest in design, so you could tell he had a little bit of creativity to him and a willingness to learn, not just wanting a job. He spoke well, asked the right questions. We continued the conversation probably 30 or 45 minutes, just because it was so nice to meet someone that has potential."
Jabril landed the job, and while he came into it with no construction experience, he had already shown he was eager to learn throughout his time in the Construction Ready pre-apprenticeship program.
"I hadn't been in school in a while, so I liked that I was learning again, especially something that I had a lot of interest in already," he says. "And there were Lunch and Learns where you hear from different companies. I liked seeing the different ins and outs of what those companies do."
Each day on the job site has been a process of continuing education for Jabril. Clearly a thoughtful young man, he came up with an insightful analogy to describe his work.
"Starting off they had me doing just basic things," Jabril says, "but I like to think that what I'm doing kind of coincides with my own education. Like when I was laying foundations [for the Jaguar facilities], I was also laying a foundation for my career. When I'm setting forms, I'm forming myself, too – I'm learning different things every day."
Assistant Superintendent Alfredo de la Cruz, Jabril's direct supervisor, echoes Mosley's comments about Jabril's potential.
"He's been doing really good," de la Cruz says. "I like his attitude. I see Jabril years from now in a different position. He's willing to learn, he's always there to help, and he's willing to do whatever it takes to get the job done."
Jabril's story is a great example of how Construction Ready's pre-apprenticeship program can jumpstart a career in a hurry. In his case, a college football career at Florida Atlantic University had not worked out. The Jacksonville native was back in his hometown working in security when he began researching construction careers.
"I found a few different programs and apprenticeships, then I came across Construction Ready," he remembers. "It was the quickest one – it said you could get hired for a construction job in like 30 days. So I applied and I got a call from someone who said there would be a class coming up in October."
The training – actually it's 20 days – provides instruction in basic construction skills, up to eight industry-recognized credentials, and those all-important connections to real employers who are hiring for real jobs. The best matches come when graduates are willing to keep learning, and employers – such as Haskell – are willing to help them do so.
"This company identifies people who have potential, and they will help develop that," Mosley confirms. "We want to show them that this is a career. I believe Jabril is definitely taking the steps to continue, so we want to advance his education, get him experience on the job sites, and give him a little bit more [responsibility]. So far it's been working great."
A bonus for Jabril is that his first on-the-job experience was helping build a facility for the Jaguars, his lifelong favorite team.
"I mean, grew up in a teal-colored room," he says, referring to the Jaguars' distinct primary color. "Just being out here is cool to me, because knowing I'm helping build their practice facility, that sticks with me."
So far it's working out just as he envisioned: "It was cool that I had [working for Haskell] in mind, and now I'm here."