When Brian Hauck was a junior at Houston County's Veterans High School, he had yet to consider a career in the skilled trades. But he quickly figured out what he didn't want to do.
"I worked in fast food for a month, and I was like, 'No,'" Brian says.
Then he was invited to apply for a part-time job with Speir & Associates Electrical Contractors in Macon.
"It was just an opportunity, and I said I'll try it out, and I stuck with it because I liked it," Brian remembers. "I didn't know much about [electrical at the time] … now that's what I'm basing my life on."
Brian (pictured below with co-worker and fellow 2022 graduate Josh Ireson) spent the next two summers working full-time with Speir. He plans to continue the job as much his schedule allows while he studies construction management in college. His story is a great example of Speir's efforts to recruit young people into the electrical industry.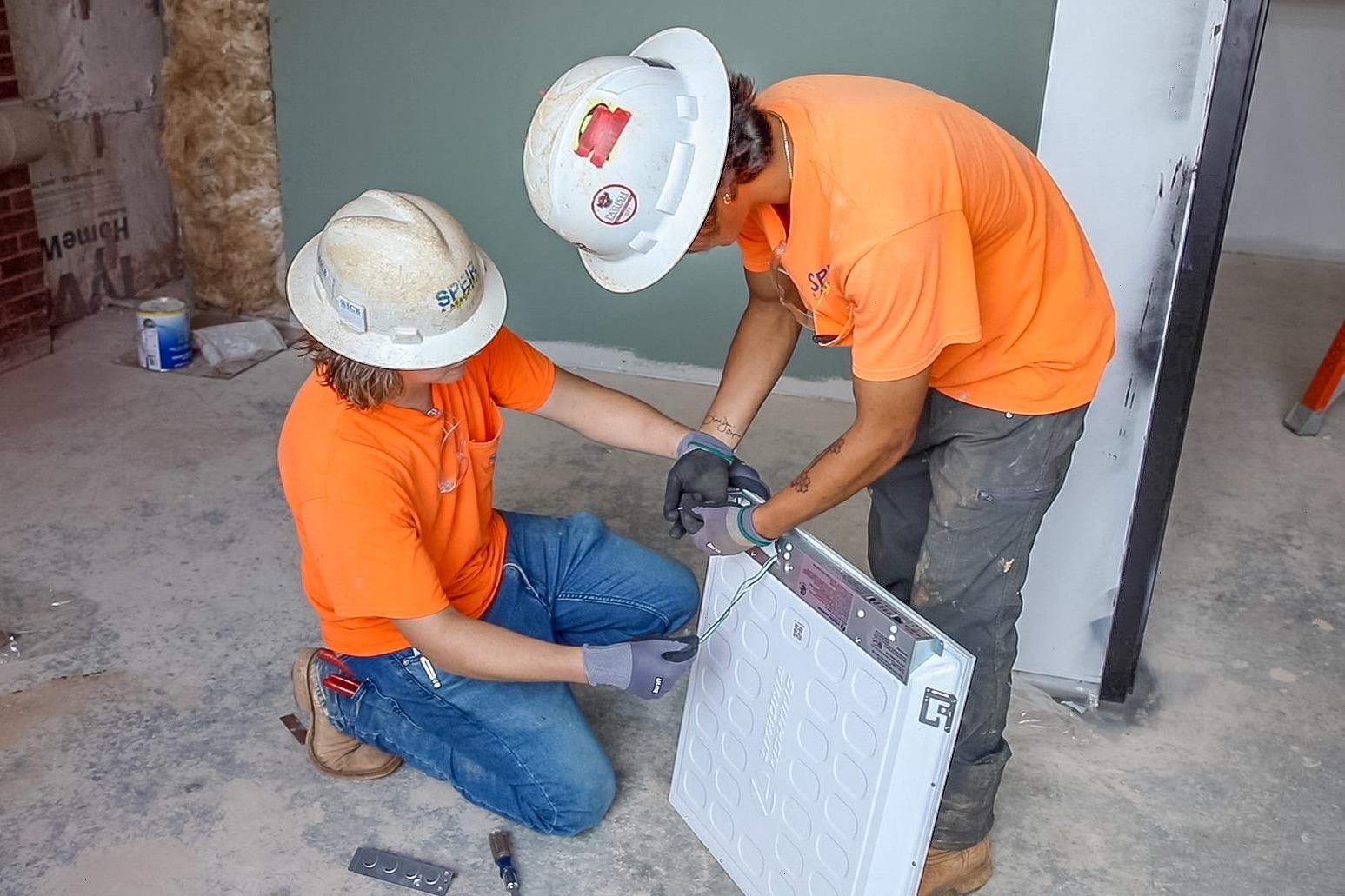 Since January 2018, the company has hired more than 60 high school-age students throughout middle Georgia. Speir safety coordinator Jerry Ward leads the effort by canvassing Work Based Learning programs and other connections in counties from Henry and Spalding to the north of Macon all the way to Houston and Peach further south.
"The students are the future of the trade," Ward says. "So many students just don't know the opportunities that are out there for them, so what we want to do is give them that opportunity to at least come out and try it. We're trying to show them that construction is an option and that it is a great career – not just a job, but a great career."
Company CEO Mona Speir concurs: "It seems natural to me to allow them to at least try," she says. "That's what we tell them all when we bring them in – you may find out this isn't for you."
While that's certainly true for some, the strategy has paid off – Speir's full-time payroll now includes a half-dozen former student workers.
"Getting experienced help is a challenge," Speir says, "so if we can get them when we're young [and] explain to them the opportunity to make a really good career … it's worked out real well for us."
Speir and Ward are intentional about including young women in their recruiting efforts. Kalyn Jenkins, for example, is a Class of 2023 senior at Jones County High School who spent the summer of 2022 with the company. Kaylyn (pictured at right with Speir and Ward) plans to study electrical engineering after graduation, and the hands-on experience has given her a great head start.
"I've been putting up lights, running pipe, pulling wire," Kalin says. "[I enjoy] being able to get my hands dirty. I think it's interesting [to see] how everything works."
Speir says, "It's kind of always been a passion of mine to see more women coming into this industry. There's plenty of women behind the scenes, bookkeeping and that kind of thing, but to see female electricians out in the field, we're missing out on a whole huge population of potential employees by turning a blind eye to it. Just because women haven't gravitated to the construction field doesn't mean they're not capable."
Adds Ward: "In the past, it's been a predominantly male field, and we all know that. When I got here, I talked to Mona, and she is very much for [increasing female participation in the industry]. When you [ignore] females, you're cutting the potential workforce in half. And you have two different mindsets with male and female, so you're losing that perspective."
Speir says the company's team of electricians includes several women "who are on track to make a longstanding career out of it." She and Ward see a world of potential in the women on their team.
Ward recounts a recent conversation on that topic with Speir: "I mentioned to Mona, 'You know what would be really great? If we had a job site completely run by females.' It would be awesome to show that it can be done."